Merry Christmas! Happy Holidays! It's definitely holiday party time!
This dress is my New Year's Eve dress. (( How in the world? Did you make that? ))Yes, it can be done by you, too! I followed the Craftsy course led by Gertie (Gretchen Hirsch of
Gertie's New Blog for Better Sewing
). The Craftsy
course
featured a Burda pattern for evening dress #122A Bustier Dress w/Draped Detail from the 05/2011 Issue of Burda Style Magazine. The course itself is a series of videos that walks you through every detail of making this dress from start to finish. It was great. I loved it, and it was a great way for me to get back into sewing regularly.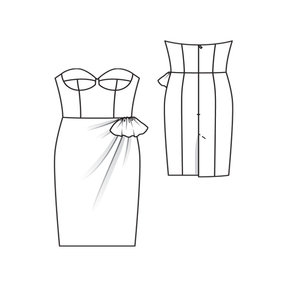 Burda 122A
Modifications: I omitted the drape detail as is shown in the course. I modified the bust cups to fit me... I added about 1.5" to the top of the cups and 1" to the bodice. There was also the swayback adjustment to the bodice top (Tip: If you adjust the bodice piece widths, don't forget to add extra space to the corresponding skirt pieces so they still match later). To make a rounder cup, I flattened the design line of the bust pieces where they join top to bottom; it makes a less pointy cup.
belt accessory, top stitching
I thought it needed some visual interest, so I added a top stitch to most of the seams in the dress. Then there's the optional halter strap which is just a fabric strip with a few button holes. Gertie guides you through that, too! Finally, I added a belt accessory, and that was it!
just strike a pose... serious adri
Okay, so maybe I should explain why I'm in the bathtub wearing rubber gloves... Well, that was the best place not covered in boxes and packing stuff. Plus, the light was great! And, I love the yellow rubber gloves.
back view; surrounded by cardboard
shameless.
Details...
The outer dress fabric was purchased from the sales bin at
Karstadt
in Munich. The grey cotton lining was from
Ribes y Casals
in Barcelona. The grey acetate or some kind of nylon skirt lining, Petersham ribbon, and zipper was from Orag-Haus, Munich. The spiral steel boning, casing, and caps were from
Spitzen Paradies
. The belt clasp was a birthday gift from my friend, Véronique. It was part of a collection of vintage buttons she gave me. And, a big thanks to Alyson who convinced me to make this dress as a sew-along with her! Thanks, Alyson!!
Part 1 of how I made this dress can be found
here
.